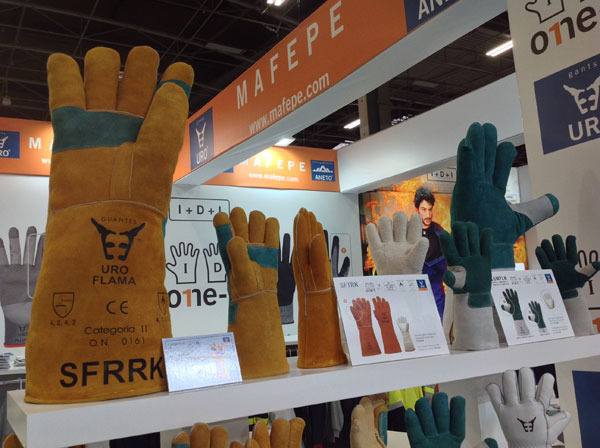 MAFEPE wants to thank you to all who visit our stand at the Expoprotection Fair in Paris, from 6th until 8th November, where we exhibit our URO gloves and ANETO garments with the advanced techniques to provide them a longer life. Your opinions and interest in our new products help us to improve day by day.
The ANETO garments offer a unique tissue with technical characteristics, against corrosive chemicals and fireproof materials, and high visibility with yellow bands.
During the fair, we introduced our Development and Innovation in relation with the URO gloves, incorporating the 3D technology, anti-crush+ anti-impact.
https://www.mafepe.com/en/guante-anti-impacto-choqe-dedaletas
Another important news is our most full equipped glove "multi-activities in mechanical risks": our reference PLLUMA with 60% of aramid and 40% of nylon, fibers distributed in the hand proportionally to the maneuvers and risks to protect, with polyurethane bath, (EN 388 and EN 407)
https://www.mafepe.com/en/guante-de-seguridad-uro-rf20s
Finally, MAFEPE improves the URO gloves in the "V area", extending it between the thumbs and index, and we are working with our technical team in the last news, always in the line of improving the environment and your cost effectiveness.
MAFEPE offers to big consumers and distributors, to develop and implement new concepts.
Related products